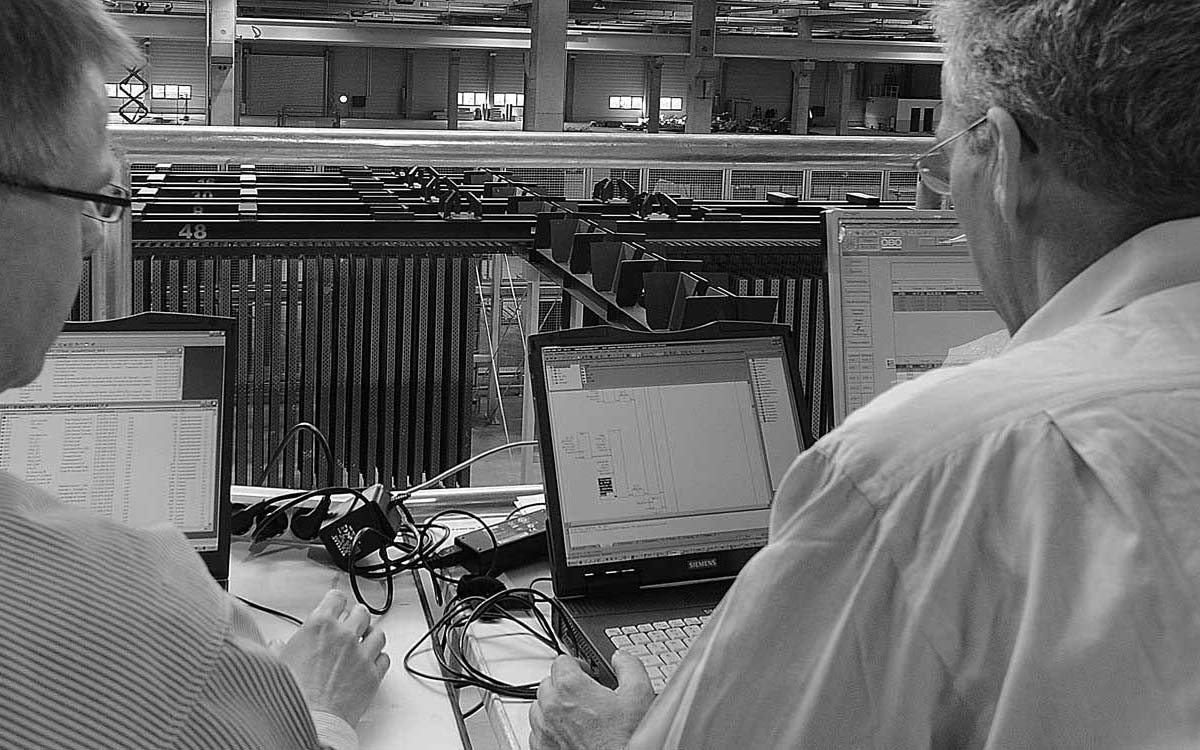 Programming
CAGE ROTOR-asynchronous machines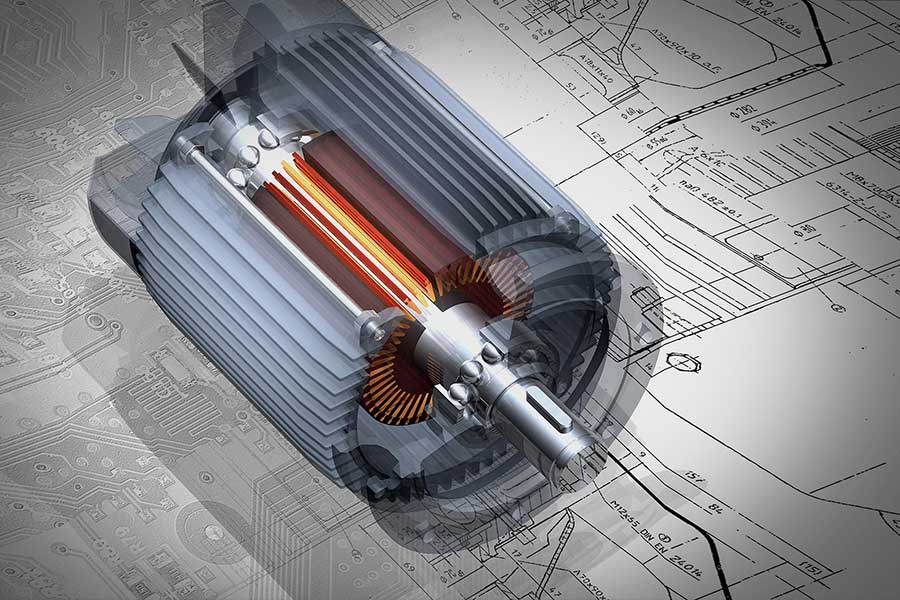 For new crane systems, we rely on squirrel cage asynchronous machines. They are low-maintenance and, in combination with modern frequency converters, offer a wide range of services for crane systems and meet the requirements of control accuracy.
All main drive groups are operated in the control mode – Vector Control – in order to always provide the optimum torque at the output shaft. Preferably, closed speed control loops are used with speed detection on the engine to provide an optimized speed control loop. This forms the prerequisite for a time-optimized and exactly superimposed positioning.
In the feed, we use – Active Infeed-Technology – to ensure optimum safety and power utilization of the machines. The use of a DC link enables an efficient energy distribution between the individual drives, and the division into several DC links can provide the redundancy required for high availability cranes.
NEW AND UPGRADING SOFTWARE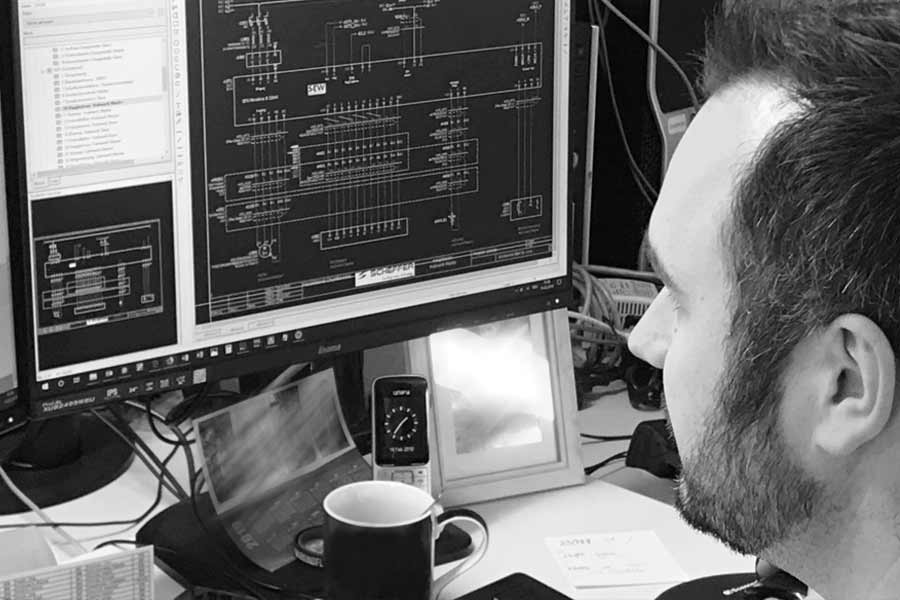 Our range of activity also includes the reprogramming and changes of existing programming for the most diverse control systems of various industrial plants.
State-of-the-art programmable logic controllers are used, which, thanks to fail-safe technology, also meet current safety requirements. In combination with the Safety Extended functions of the Siemens Sinamics S120 drive platform, this enables the achievement of the necessary performance levels for the safety functions of the crane systems. The PLC communicates with the drive technology and the decentralized periphery via modern bus systems.
INCREASES PRODUCTIVITY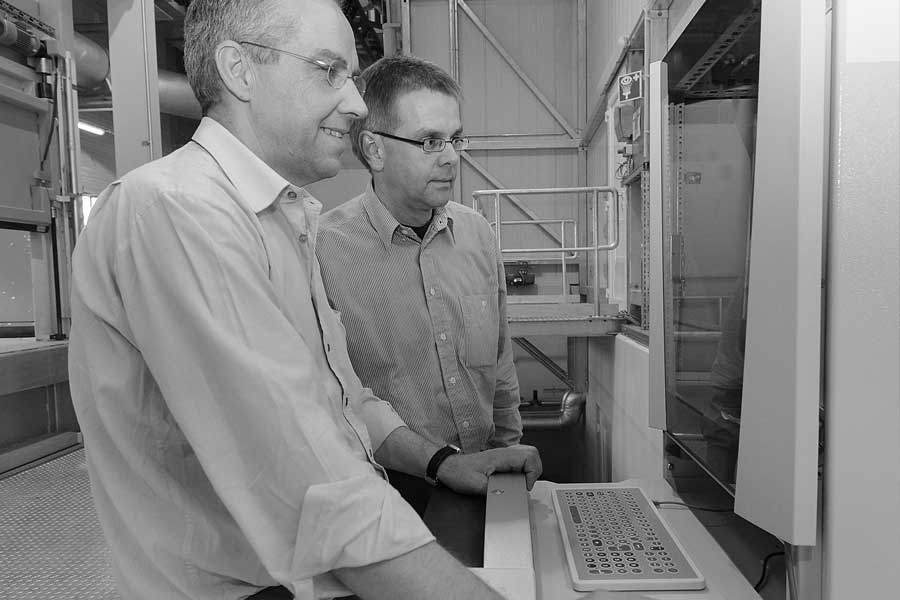 An increasing level of automation ensures occupational safety, increases productivity, ensures consistent quality and reduces damage or wearout.
At Alphatec we also offer individual solutions in this area, which are designed in close cooperation with the customer. Because in the end, the automatic system should fully comply with the process requirements. The success of Alphatec Systems automatic systems speaks for itself and is fundamentally based on the advantage that at Alphatec even the software is made by ourself.
For both manual and automated cranes, complementary systems are used as needed to assist the crane operator in his work and to make automatic processes more efficient. These include e.g.
Synchronization control
Sway Control
Track center control
Avoidance of restricted areas
DETECT PROBLEMS QUICKLY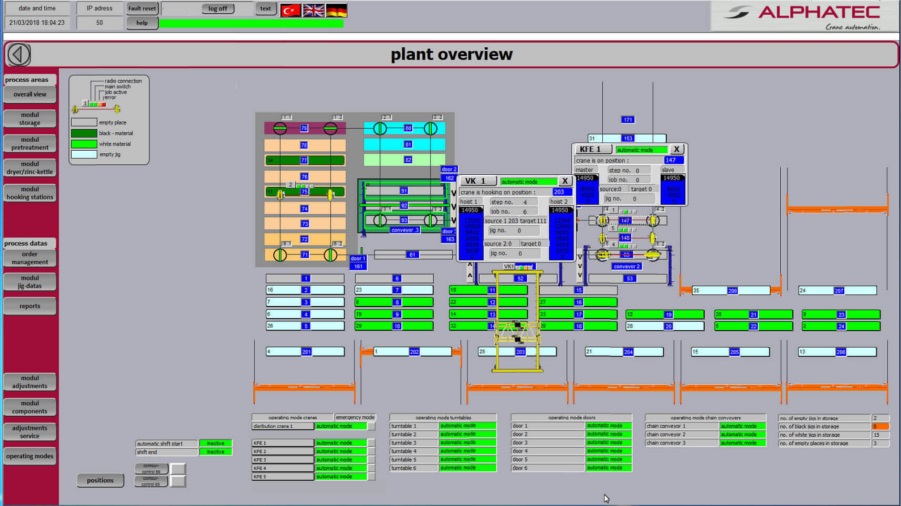 Our visualization software provides a quick overview of the complete system, clearly displays error messages and helps to quickly identify and resolve possible problems.
The hardware basis for our visualization concepts are industrial panels or PCs, with Siemens TIA WinCC as engineering platform.